Once heard or read, never forgotten. That voice — measured, steady, powerfully persistent, kindly and yet devastatingly frank — was unlike anything most young women had ever heard in Canada in the 1950s or 1960s.

If ever any editor or publisher in this country earned the epithet "legendary," it was Doris Anderson, who died yesterday in Toronto at the age of eighty-five. Among the (still too few) women who have broken through glass ceilings to become power-brokers on their own, Anderson was unique. She was obviously propelled by an unshakeable faith in the dignity and competence of women, grounded in her own sense of self-esteem, but she ran as well on just the right level of piss and vinegar to wake up some of the boys in the backrooms and to give heart to a lot of women who hadn't yet found the kind of courage she had.
Still Ain't Satisfied
In 1970, you could buy a copy of the commission's report
for $4.50. What did that report mean to women?—Did
your average woman care?
Doris Anderson: Let me backtrack a bit. The government
didn't think we needed a Royal
Commission. It was Laura Sabia threatening to have
women march on Parliament that frightened them
into doing it. But everybody—mainly men reporting
on it—thought it was a joke when they first held their
hearings from coast to coast. Christina McCall wrote
a wonderful article in Chatelaine called "What's So
Funny about the Royal Commission?"
The reporters thought it was hilariously funny that
there would be a royal commission about women at all.
Why not have one about men? And then the stories
started coming out about battered women, women in
poverty, Native women, and it became more serious.
They only printed 25,000 copies of the report. It
was a cheap commission. So it sold out within a week
and became one of the big sellers of the time. The
government totally misjudged how important this
commission was.

So, should women be calling for a royal commission on
the status of women now? Would that be a helpful tool?
Doris Anderson: No. I met with a group of women in
the Maritimes a couple of summers ago, and they
were all gung-ho to call for another royal commission.
But it takes two or three years to do it, and I
think we've got all the information we need. Really,
what we need to do is move. That's why I'm putting a
lot of energy these days into changing the electoral
system [through Equal Voice]. Five provinces are
seriously engaged in looking at proportional representation,
and also the federal government. I'm convinced
we're not going to get anywhere without it.
Interview by Lisa Rundle,
Printed in Herizons
quotes reprinted with permission

Globe Story
As editor of Chatelaine, Ms. Anderson gave readers not only what they expected in the way of recipes and beauty and parenting tips, but also something to "shake them up a bit" with hard-hitting investigative pieces on abortion, birth control, discriminatory divorce laws and the wage gap. And she hired excellent journalists to write these articles, including June Callwood, Christina McCall (later Newman) Michele Landsberg, Barbara Frum and Sylvia Fraser.

One of her first editorials was an appeal for more women in Parliament — there were only two female MPs in 1958; another early one called for reform of Draconian abortion laws. She quickly learned that effecting social change meant revisiting issues in editorials and articles, so she devoted lots of space over the years to push for a royal commission on the status of women, and to expose horrors such as child battering, racism and the plight of Canada's native peoples. Although some readers felt she was turning "a nice wholesome Canadian magazine into a feminist rag," circulation had more than quadrupled by the late 1960s to 1.8 million readers.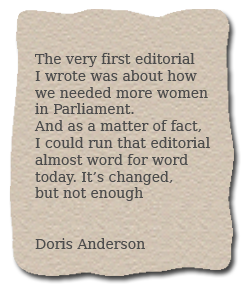 temagami
Most Canadians know about the gender equality clause in the Charter of Rights and Freedoms (part of the constitution), but few know how it got into the Charter in the first place.
That clause, Section 28 of the Charter, was born from an ad-hoc conference held on Valentine's Day weekend, 1981. Over the two preceding weeks, a small group of women rallied 1,300 people to come to Parliament Hill to ensure the Charter would guarantee equal rights for men and women.
It was a fight between Anderson and future foreign affairs minister Lloyd Axworthy that inspired that conference in the first place.
"I was amazed when they pulled that together," says Anderson, now 84. "Women had never done that before and they haven't done it since."
Anderson is the keynote speaker at the 25th anniversary celebration of the Ad-Hoc Women and the Constitution conference. This Valentine's Day weekend, men and women will converge on the site of the original 1981 conference to debate the future of women in Canada and the world.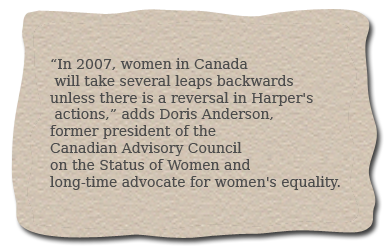 Doris Anderson still sounds shocking to many people, fifty years later, because she would not curb her tongue. Some of us lapsed into believing that we had won the fights for equality. It has been shocking for some of us to learn just how far we've regressed.

What can I say? In memory of Doris and in tribute to her: Girls! Sharpen your tongues! Give 'em hell! And don't quit.
I can only laud Doris for the way I was affected by her advocacy for women. I didn't know Doris, I only read her magazine ocassionally and took all the ground breaking discussion within its pages as a 'normal' sensible approach to issues while copying out the recipes on the next page.
Doris ignited the feminist instincts in women everywhere, in the home and the workplace by making it accessible to all. Doris fanned the flame of feminism withouth the women affected, and perhaps more importantly the men, not even being aware of it. Faith

I'm in mourning, and I expect a great many are. Not because of any one achievement, but because she was Doris Anderson, one of a kind, irreplaceable. She put women into the Charter. As another woman inspired by her once said, she took equality for women out of the joke book and into the rule book. But even that was only one more chapter in a glorious life. All equality-seeking Canadians are in her debt, and mourn her loss. Wilf Day
Doris Anderson was a Canadian icon of the women's movement — a tireless champion of our rights. Throughout her life, Doris fought for the equality of women and was a mentor to many, among them former Star columnist Michele Landsberg. Her fight ended yesterday, when she passed away after another battle: pulmonary fibrosis. She was 85 and will be greatly missed by so many of us. I am very saddened by this exceptional woman's death.
Doris Anderson was my inspiration and my hero. Verbena19

Media tributes
Globe & Mail

Picture Credit
canadawiki.org via Google images